AA News
New Delhi
Indian Youth Congress today, staged a protest against NDA Government and Prime Minister Narendra Modi on looting the Nation.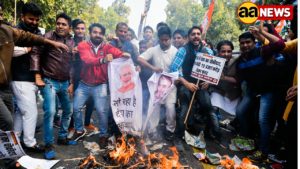 In the biggest banking fraud in India's history, Nirav Modi, a billionaire, luxury jewellery designer is the main accused. Government run 'Punjab National Bank' (PNB) has detected "fraudulent and unauthorised" transactions of over Rs. 11,400. The prime accused, Nirav Modi has already fled the country.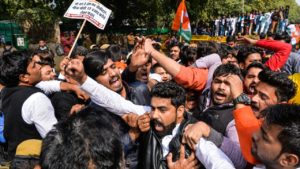 No action was taken either by PMO or any other authority, instead Nirav Modi was seen in Davos at the WEF accompanying PM Modi. He then fled the country, in return the bank and the nation suffered a loss close to Rs. 12,000. Punjab National Bank it self-has reported the total loss to be above Rs.11,400 crore. What the Modi Government had hidden from us is that there is also an exposure of Rs. 9,872 crore of other banks with Gitanjali Gems Limited, a company promoted by Shri Mehul Choksi.
The entire system was bypassed to favour both the accused. All regulatory mechanisms broke down. Everything escaped the eyes of auditors and investigators when the country is hit with the biggest banking fraud in the history. The Prime Minister must break his silence and answer the Nation. It is high time that the country needs to wake up and fight these dacoits who are looting the country.
IYC protest began from IYC National office at Raisina Road and was forcefully stopped on the way towards PMO. Many activists have been detained by police and police used forceful measures to stop the march. IYC National President Shri Amrinder Singh Raja said that PM Modi needs to answer the Nation as to why no action is being taken against these continuous scams occurring in the Country.'
This protest march of IYC was led under the leadership of IYC National President Sri Amarinder Singh Raja, along with IYC National Secretary Shri. Sitaram Lamba . IYC Sec. Abid Kashmiri, IYC Sec. Dheeraj Meena . IYC Sec. Praveen Kumar, DPYC President Vikash Chikara, DPYC VP Mahendra Chaudhary, DPYC VP Ranvijay Singh Lochab and delhi state office bearers and youth activists.