AA News
New Zealand's head coach, Gary Stead, has provided insight into Kane Williamson's potential return for the ODI World Cup 2023. After a knee injury during IPL 2023, Williamson has been away from competitive cricket for almost five months. Gary Stead, the head coach of New Zealand, has shed light on the potential for Kane Williamson to participate in the upcoming ODI World Cup in 2023. Despite his extended absence due to a knee injury, the New Zealand team remains optimistic about their captain's return for this prestigious tournament. Stead revealed that there's a two-week window for Williamson to prove his fitness and form.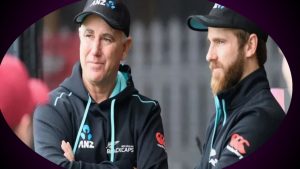 Notably, Williamson hasn't played competitive cricket for nearly five months since suffering a knee injury during the opening match of the Indian Premier League (IPL) 2023, where he represented the Gujarat Titans. After undergoing surgery for a ruptured ACL, Williamson has been steadily working on his recovery and recently resumed training. He joined the national squad to prepare for the England tour.
Traveling with the New Zealand team to the United Kingdom, Williamson's presence has been a morale boost. Before their series against England, New Zealand played two practice T20 matches against county teams. The team is scheduled to participate in a 4-match T20I series starting on August 30, followed by a 4-match ODI series from September 8 to 15.
Stead's Insights on Williamson's Recovery
Coach Stead spoke to the media, outlining Williamson's ongoing recovery process. He highlighted that Williamson's return to net practice was a positive sign, but there's still significant work ahead to ensure his fitness level is suitable for international competition.
"We have approximately two weeks until we announce the team. We'll give him every opportunity and make the most of the time he's in full rehab mode. It's great to see him back in the nets, making good progress. However, there's still a lot of work for him to do to meet our requirements," Stead explained.
While New Zealand is hopeful of having their inspirational leader back on the field, Stead acknowledged the possibility that Williamson might not be ready for the initial matches of the World Cup, even if he's fit and included in the ODI World Cup squad. Balancing the urgency of his return with his long-term fitness remains a key concern for the team management.
"There's a chance that even if Kane is selected, he might not be available right at the start of the tournament. We want him at the World Cup, but we also have his overall well-being in mind. We're considering the bigger picture, ensuring Kane Williamson's fitness for the rest of his career. Kane and I will have open discussions about this," added Stead.