The Capital is ready to witness the '6th Delhi International Film Festival 2017' in association with New Delhi Municipal Council (NDMC)
Finally, the 6th Delhi International Film Festival a Centenary Celebration of 100 years of Delhi, Indian Cinema & NDMC for this year has taken a great grand opening. Started from 4th of December in Delhi the 6th DIFF will take place until 9th of December as a seven-day event, at the Central Park, Connaught Place, and NDMC Auditorium.
Showcasing the cinema from all around the world, with state Tourism partner this year Jharkhand, DIFF is an initiative by "The Social Circle, A Society for Cause and – A step towards inclusiveness" to explore the best of Cinema, Art, and Literature from across the globe in association with New Delhi Municipal Council (NDMC). Well, the first day of DIFF took a bang starting with the grand opening ceremony and inauguration. Present in the evening were very well known personalities of Bollywood along with different fields as well, such as Sh.Sudarshan Bhagat (Minister of State Ministry of Tribal Affairs Government of India), Raju Chadha (Chairman Wave Cinemas), Tigmanshu Dhulia (an actor known for his superb acting skills in Gangs of Wasseypur and other movies too, Eminent Singer Malini Awasthi, Naresh Kumar (Chairman, NDMC), Chanchal Yadav (Secretary, NDMC), Sh.Amar Kumar Bauri (Minister for Revenue & Land Reform, art, culture & Sports & Youth Affairs, Gov. of Jharkhand), H.E Mrs. Chitranganee Wagiswara (High Commission of Sri Lanka), Rahul Sharma (Secretary Tourism, Jharkhand), Rajeev Ranjan (GM & Joint Director, Jharkhand Tourism), Rahul Mitra (CEO, Wave Cinemas), Adnan Abu Alhaija (Palestinian Ambassador) and many others.
While interacting with everyone in the grand event, the CEO of Wave Cinemas stated his own thoughts for the same, he said, "I would like to thank everyone present here, media the entire team and audience. Our Cinema has an important part in our lives. We have always been influenced by the cinema we watch. I am feeling proud and excited to be a part of the journey of Indian Cinema."  On the death of Veteran actor Shashi Kapoor, Raju Ji sadly stated, "Shashi Kapoor Ji was one of the finest actors in our industry since childhood in hasn't missed any film of Shashi Ji. After Prithvi Raj Kapoor & Raj Kapoor, we have lost Shashi Kapoor Ji, and it's really painful for the Indian Cinema. The entire film fraternity has lost the diamond of Indian Cinema."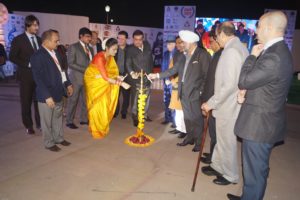 So this year, DIFF has started on a journey, collaborating with film festivals from more than 54 countries such as USA, Morocco, Sri Lanka, Afghanistan, Pakistan, Egypt, Afghanistan, Russia, Jordan, Israel, Ukraine etc., and screening of 174 films in various sections like World Cinema, NRI Cinema, Cinema across the border, Indian Showcase, Documentaries, Green films, student films, short films, etc. Working towards making it all a grand success and a platform which celebrates cinema, art, literature, and culture. This year, DIFF is ready to explore a visual extravaganza in the Capital.