Women Oriented film "Hard Kaur" is slated to release on 15th December!!
Based on the subject of Women Empowerment Hard Kaur is a Punjabi movie which not only targets Punjabi audience but general public also. Portraying the women-oriented theme, this movie is slated for the release of coming 15th December. Therefore, for the same, the entire cast of the movie along with very well known personalities of Bollywood and Punjabi industry were present in Delhi at Ethiopian Cultural Centre for the promotions.
While at the press conference held in Ethiopian Embassy, the Chief Guest of the event was Daler Mehendi, singer Kumar Sanu, Actor Akshay Anand and the CEO of PTC Rajie Shinde. Along with them, the leads of the film were also present, which includes the film stars powerhouse of talent and arguably the best female actor of Pollywood, Nirmal Rishi alongside Drishtii Grewal, Deana Uppal, Neet Kaur, Swati Bakshi.
While addressing the Media, the Director, Ajit R Rajpal, said, "Hard Kaur, is a unique example of the best of Punjabi cinema which will showcase the women empowerment at its best". He further added about the gist of the movie as, "This is a story of a Kaur who is a School teacher from patiala travels every day in a Local Bus from "Daonkala to Rajpura Bypass" comes across  a Super Rich boy from Haryana and how her life changes in a Murder which takes place in a running bus, the innocent girl gets trapped and becomes helpless in front of the Power, how the other 4 Kaur's of Punjab unite and saves the girl by bringing justice to her motivating millions of girls across the globe and making every Indian proud is the film Hard Kaur."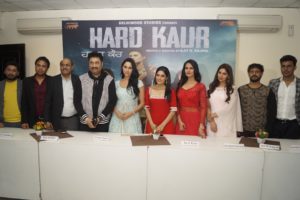 Lead Actress, Deana Uppal also added, "I am super happy to work with such a content and concept and I am sure this movie will be loved by audiences across".
Well, this film has Sikh girls from five different cities of Punjab who go through agony, but win over all through all the hardships by uniting. Hard Kaur is directed by Ajit Rajpal and is being presented by Delhiwood Studios Pvt. Ltd. The movie is based on the 5 "Kaur's" of Punjab.