AA News
New Delhi
Smile India's 'GIFT A SMILE' meet and greet turned out to be a glitzy event, which took place in Radisson Blu, Airport Hotel. The event showcased its activities in the past 16 years and how they have grown in numbers from the year 2002 to 2017.Dr.Sushant Umre (Trustee, Smile India) and daughter, Dr. Ishita Umre (Director Smile India) run a dental NGO, the first of its kind in India, which serves the underprivileged with modern dentistry aids since 2002. Present at the event were many known personalities Ustad Shujaat Khan, supermodels Sonalika Sahay, Laxmi Rana, Anousha Chauhan, Fitness Instructor, Vesna Jacob and Blossom Kocchar along with daughter Samantha Kocchar who spoke about how a perfect smile is important in the present world. They judged the smile contest which was a super hit with the audience.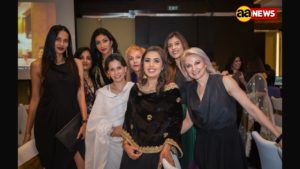 The event also witnessed a small skit presented by children of Salaam Balaak trust 'Mareezmast,Dentistpast' which was followed by a brilliant musical performance 'ELIXIR' by famous Smt.Shubha Mudgal and her band Aditya Balani, Gaurav Balani, Srijan Mahajan, Anil Chawla and audio engineer Nitin Joshi.
The king of Bollywood-Shahrukh Khan's personal dentist Dr.Sushant Umre is a well-known Cosmetic Dentist of North India and is in practice for 35 years with a focus on Aesthetic dentistry. Dr Umre along with daughter Dr. Ishita Umre head Smile India- the social face.
Smile India is an organization with a mission to make available latest and affordable dental care to the underprivileged masses and to provide young, upcoming dentists willing to do community service an opportunity to experience and learn.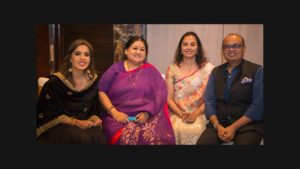 The internationally acclaimed Indian musician and sitar player, Shujaat Khan while appreciating the noble cause of Smile India said "Dr.Sushant Umre and Dr. Ishita Umre with their team of competent professionals are doing a great job by taking advanced dentistry to those who would have never believed to afford it otherwise. Their high tech equipment and modern techniques are of international standards, constantly improving the ever-changing world of medicine."
Gift a Smile is a program initiated to generate funds for sustaining and expanding the impact of this mission at multiple levels. Such programs have been organized in the past with great success.
"If it is to do with Teeth, I only know one person which takes wonderful care of mine and that is Dr.Umre and his team. Thank you so much for keeping me smiling"- SHAHRUKH KHAN