New Delhi
On Gudi Padwa, Dhoom girl starts shooting for her short feature film Cakewalk, directed by Ram Kamal Mukherjee and Abhra Chakraborty.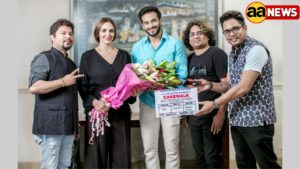 The shooting of Esha Deol Takhtani's comeback venture Cakewalk started on the auspicious day of Gudi Padwa, marking the first day of the year in Marathi calendar. She officially announced the teaser poster of the film, followed by birthday celebration of producer Shailendra Kumar at the shoot.
Produced by Assorted Motion Pictures and SS 1 Entertainments, the film is directed by Ram Kamal Mukherjee and Abhra Chakraborty.
Story and Screenplay by Ram Kamal Mukherjee and Chandrodoy Pal, the film revolves around the life of a chef, played by Esha.
"It's an auspicious day to start anything new. Today is Cheti Chand also, and being married to a Sindhi family, it's an auspicious day," says Esha. They started the shoot in a Mumbai suburban studio with traditional puja, followed by a series of montages which will be an important part of the film.
Esha had her scenes with male lead Tarun Malhotra. And they had an instant "buddy bonding" which created magic on screen.
The film is produced by Dinesh Gupta, Shailendra Kumar and Aritra Das. "I come from a small town like Jhansi, and it was my dream to make a film that people will be happy to see. I personally like makers like Mani Ratnam, Shoojit Sircar, Gauire Shinde, R. Balki and Hrishikesh Mukherjee. I am happy that my friend Dinesh Gupta believed our project," says Shailendra, who also happens to be the music director of the film. Aritra Das, from Assorted Motion Pictures says, "I am thankful to Esha Deol for making it possible. We all have worked hard on this project, and we are doing everything that one generally does with a feature film."
Television actor Tarun Malhotra who makes his Bollywood debut in Cakewalk says, "There is a scene where I had to recite few verses written by Elliot. I was thoroughly impressed with the homework Ram Kamal did. When he explained me the prelude of the text and mentioned the reason why co-director Abhra had included the scene in the film, I realized that they have worked a lot on the character." The film also stars popular Bengali actress Anindita Bose.
After completion of Mumbai schedule, Esha will be shooting in Kolkata for the last schedule of the film. "I have never shot any films in Kolkata. But I am deeply connected to Dakhineshwari Kali Ma, she is so powerful. I am looking forward to visit the city," shares Esha
During the pack up hubby Bharat Takhtani came with little Radhya to give mommy Deol a little surprise. Jokingly she added, "Balancing dance, films and family is definitely not a cakewalk." Incidentally, Esha started her solo recital and will also be seen in dance ballets soon. The teaser launch of Cakewalk received good response from media and film fraternity. ​