AA News
New Delhi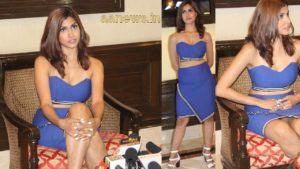 The diva Divvya Chouksey who was last seen in the movie Hai Apna Dil Toh Aawara has joined the 'actor turned singer club' by making her singing debut in the music video called Patiyaale di queen! As she promoted her peppy track out here in Delhi at PVR Plaza CP. The music video is released under the banner of Zee Music Company. While interacting with media in the event Divvya revealed few details & uniqueness of her track. This song also features Sahil Anand and is based on feminism.
When asked Divvya about her first time experience she said, "This will be the first time I will sing professionally and I'm really excited about this new experience. It was a fun experience shooting the music video, but it has a purpose, a larger purpose in fact. It's time a song came where a girl replies to all the misogynists and gives it off to them. I am a strong woman of today and I don't like misogynists. This is my answer to all those who feel and say that what a woman wears, invites rape! Yes, meri dress hai chothi phir bhi tere soch se hai badi…. The song is fun, it's not preachy, girls are definitely going to relate to it and dance on it. I loved shooting this song since I have written the lyrics, its fun to act on it too. Hope people like what we have put together." On Censor Board she further added, "I am very unhappy that Censor Board cut my song, I feel very bad, what wrong I am doing. My songs actually talk about women equality, did they had a problem with sex education or the complaint I made a complaint to the teacher about the guy, I really don't understand."
Well, not many know that Divvya is a very good singer and has lovely singing skills. Not only will she be seen dancing and singing in the video, but the actress has also rapped for the same. The song is a perfect reply on behalf of all women, to the female objectifying lyrics usually used by globally known singers like Akon, Honey Singh, Baadshah!
It will be a treat for Divvya's fans and music lovers when the diva takes on the mic that will melt the heart of her fans with her melodious voice.