AA News
New Delhi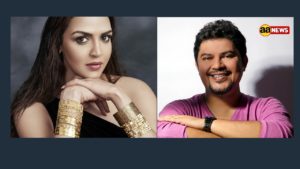 Dhoom girl makes her comeback in Hindi short, to be directed by Hema Malini's biographer turned director Ram Kamal Mukherjee.
Bollywood actress Esha Deol will make her comeback in Hindi short feature film Cakewalk, to be directed by Ram Kamal Mukherjee. She will be playing the role of a Chef in the film, depicting the professional and personal journey of a woman in our society. "The idea of making a film came into Ram Kamal's mind while he was interviewing me for his book on my mother," says Esha. The Dhoom girl had consciously taken a break from films after marriage and motherhood. Last October she and Bharat Takhtani had a baby girl Radhya, and since then she has been enjoying her motherhood. "I always wanted to tell a story, it was just a matter of time," says Ram Kamal. "It was actually Esha who inspired me to direct the film," he added. The story and screenplay has been penned by Ram Kamal. The film will be co-directed by Abhra Chakraborty, who assisted National Award winning Bengali director Bappaditya Bandhopadhya in Elar Chaar Adhyay.
Speaking about his corroboration with Ram Kamal, co-director Abhra says, "I have heard about dada (Ram Kamal) from Bappada. After Bappada's sudden demise when I suddenly got a call from him to collaborate on a Hindi film, I immediately agreed," says Abhra. He feels that it Esha will be seen in a complete new avatar, and that would be refreshing. The music has been composed by Shailendra Sayanti. The film will be shot extensively in Kolkata by end of March.
"I think the idea came to Ram Kamal's mind after he interacted with a couple of working women from various walks of life. He has beautifully woven those incidents in his narrative," says Esha. Why did they decide to make a short film and not a full length feature film? "I think this is the right time to make short films. And honestly my priority is my daughter Radhya now. I have requested my husband to take a break for few days and just be with Radhya while I wrap up the shoot in one schedule. And I am lucky to have someone like Bharat," says Esha.
Ram Kamal feels that in today's time making a short feature is a much wiser decision. He elaborates, "We are a part of digital revolution. Recently Shah Rukh Khan mentioned that eventually films will get shorter and the medium will change from celluloid to smarter devices. That clearly indicates the future of cinema. We won't be surprised to see Shah Rukh, Aamir Khan and even Amitabh Bachchan working in a web series or a short film in a couple of years." Former editor of Stardust film magazine, Ram Kamal worked with Pritish Nandy and Rangita Nandy in almost 12 films. Later he co-produced TV series Bin Kuch Kahe with filmmaker Rajshree Ojha. Last year he released his authorized biography Hema Malini: Beyond The Dreamgirl with Harper Collins.
Produced by Dinesh Gupta, Shailendra Kumar and Aritra Das, under the banner of Assorted Motion Pictures and S S One Entertainments, the film will also introduce model turned television actor Tarun Malhotra as the male lead. "I met Tarun during my Stardust days, and since then I have seen his growth as a talent. He has worked with filmmakers like Pradeep Sarkar and Gaurie Shinde in commercials and played antagonist in Jaanbaz Sindabad in Zee TV. I wanted someone who can look young and matured at the same time," reveals Ram Kamal.