Bollywood in Oman Muscat!
AA News
Bollywood's fascination for locations in the Sultanate to shoot movies is well known With a number of Bollywood, regional films and songs having been shot in Oman but this time a team from the Indian Hindi film industry has gone to the Muscat Festival.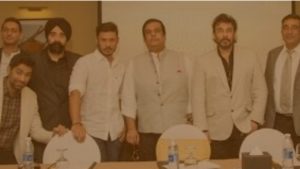 Filmmaker Rahul Mittra, actor -director Deepak Tijori and actor Harshvardhan Deo were invited as guests of honour for the first shot of a Hindi-Arabic sports-themed movie to be filmed in Oman at Muscat recently.
The first shot of the movie was filmed at the Muscat Festival venue at Amerat, followed by shoots at other exotic locations in Oman.
Rahul Mittra an award-winning filmmaker & CEO Wave Cinemas who has produced path-breaking films like 'Saheb Biwi aur Gangster', 'Saheb Biwi aur Gangster Returns', 'Bullett Raja', 'Revolver Rani', 'Sarkar 3' and is currently producing 'Saheb Biwi aur Gangster 3' and with Sanjay Dutt. While speaking at the press conference Mittra appreciated the breath taking locales of the country & urged the senior government functionaries present at the event to come up with an attractive subsidy & film policy. 
The movie titled 'Papa Kehte Hain bada naam karega' will be directed by Harleen Singh & will capture the life of a cricket-obsessed young boy from a remote Indian town whose only aim is to become a cricketer and fulfil his dream of representing the Indian national cricket team globally.