AA News
New Delhi
Maniesh Paul Scoops The Best Host Award In Asia At SAAF 2018 In Hong Kong
Versatile anchor-turned-Bollywood actor – Maniesh Paul is a dynamite when he takes over as a host and his flair as an emcee for any event is simply unprecedented. The man can effortlessly charm the audience with his affable and witty on-stage presence. And now the super talented host has proved that he is not only the Sultan of stage in India but also Asia.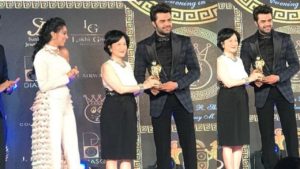 Maniesh Paul, who has impressed every time he has set foot on-stage, has been recently honoured by the SAAF Awards at the 12th Sarjan Annual Award Function, in the presence of top officials from the Hongkong government.
The multifaceted anchor and actor walked away with the Best Host in Asia award at the SAAF Awards 2018.
Speaking about bagging the award, an excited Maniesh said, "It's been wonderful winning the award, especially on the international grounds. It feels amazing that your work is appreciated all across Asia and I am grateful to SAAF for honouring me with this award. I feel amazing getting the award for the Best Host in Asia."
Sarjan Group is a Community Organization in Kowloon, Hong Kong which organises SAAF Awards in collaboration with Hong Kong government annually. This year they were celebrating their 12th year of honouring talents across Asia.