AA News
Finally, world's biggest event of LuvKush Ramleela begins with full purity of Ganesh Poojan with some classic dance on Lord Ganesha songs by youngsters, at the prestigious place of New Delhi, Lal Quila Maidan.
The event was graced by the performance of BJP Leader Vijay Sampla as the Himalaya father of Devi Parvati along with BJP Leader Vijender Gupta' Act as Rishi Atri along with other well-known celebs, artists during the first day of LuvKush Ramleela on Wednesday. Along with them, Ashok Aggarwal (chairman of LuvKush Raleela) with a big amount of audience was there to grace the religious event.
The evening became more pleasant with dance group performance of artists. The entire team and cast of Ramleela performed graciously with enthusiasm and delighted everyone by their moves. Lightings were the centre of attractions there. The vital stages for different scenes and each stage and set up was full of beauty. Media also witnessed the beauty and charm of Ramleela. Charming dresses along with great sound and graphics were increasing the craze and glamour of LuvKush Ramleela.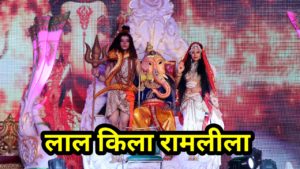 Let us again recall you all the character details which will be showcased this year. Union Minister of State Vijay Sampla will portray the character of Himalaya. Avtar Gill will portray Vibhishan, Ritu Shiv Puri will be Sita's mother Sunaina. Shankar Sahni will be Guru Vashisht, Raavan will be Puneet Issar, Ram will be portrayed by Angad Hasija, Rakesh Bedi will be Sugreev, Shilpa Raizada as Sita, Vindu Dara Singh will be Hanuman. Amita Nagia will be Mandodari, Raja Chaudhary will be Meghnath, Manoj Tiwari will be Angad. This year LuvKush Ramleela will be highlighted for the National and International audience through Television.
The 40-year-old LuvKush Ramleela is started from 10th October and will be showcased till 21st October 2018.