Sanjay Dutt left his crucial flight to Jaipur for the sake of Friendship!!
   Not only known for his acting skills but also for his bonds, his friendships, Sanjay Dutt aka Sanju Baba knows how to hold on to his circle of friends very dearly. And one of the top lists of his friends includes Rahul Mittra the award-winning filmmaker & CEO Wave Cinemas. For whom Sanju Baba left his flight for Jaipur, which was crucial enough for the shoot of his upcoming Bollywood film Saheb, Biwi Aur Gangster 3.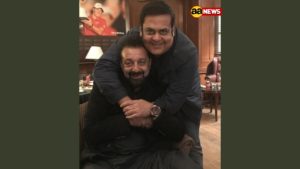 As recently, Sanjay Dutt visited Delhi recently for a high profile wedding, the time he got to know that his old fellow Rahul Mittra is in Delhi, he stayed back to spend quality time with his close friend filmmaker Rahul Mittra, even delaying his flight in the process. As they share a close bond of friendship, while chit chatting, Sanjay forgot about his flight, which was back to Jaipur, where he was shooting for his upcoming Bollywood drama flick Saheb, Biwi Aur Gangster 3.  Therefore, right after meeting his friend Rahul Mittra and missing his flight Sanju Baba took a Charter Flight and went back to Jaipur to carry forward his shoot. And somehow this proves their true bond.
Rahul Mittra is considered one of Sanju Baba's closest friends, producing 2 back to back films -Saheb Biwi aur Gangster 3 & Torbaaz with the superstar. Well, no matter how busy their schedule is, Sanjay Dutt has always been the exception, as we can witness his fondness for Rahul Mittra. And he knows how to maintain his relationship with his closed one.
आपने अभी तक aa news को यूट्यूब पर subscribe नही किया  है तो आप youtube पर भी इस चैनल को subscribe जरूर करें ।
Tks.