Janjatiya Vikas 360-degree campaign launched; a captivating Tribal cultural night to be organised at Central Vista, India Gate on 5th August 2023
Janjatiya Vikas is a first-of-its-kind 360-degree campaign for the upliftment and empowerment of the entire tribal community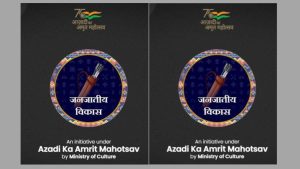 Tribal Empowerment has been one of the primary aspects of Azadi Ka Amrit Mahotsav, as it emphasizes on the preservation of tribal culture, inclusive development, livelihood opportunities, education, healthcare and sensitization. Azadi Ka Amrit Mahotsav by Ministry of Culture in support of Zee Media announced the launch of 'Janjatiya Vikas', which is the first-of-its-kind 360-degree campaign for the upliftment and empowerment of the entire tribal community.
In a pursuit to celebrate the resilience, progress and inclusive development of India's Tribal Communities, Zee Media will be organising a tribal cultural night at Central Vista, India Gate on 5th August 2023, 7 pm onwards. This grand ceremony will be an amalgamation of tribal music, dance and fashion show. The upcoming glitzy and starry night fashion show will showcase tribal dresses. The upcoming on-ground event will work as an avenue emphasising on the rich culture of tribal communities, empowering the community, tribal SHGs, agencies, and organisations to connect with the mainstream population, at large.
Through the 'Janjatiya Vikas' initiative, it plans to highlight the untold struggle stories of the tribal communities, educating and engaging the youth on the significant role that they play in making India a culturally rich country. Several other digital and on-ground elements will also contribute towards making this campaign a great success.
Speaking about the key initiative, Shri. Arjun Ram Meghwal, Hon'ble Minister of State for Culture, Government of India , further highlighted, "Janjatiya Vikas' campaign is conceptualized with the sole purpose of engaging the citizens of India towards the empowerment of the entire tribal community. As the tribal community plays an integral role in our society, every citizen of India should come forward to embrace the glorious tribal heritage and culture of India."
"With the launch of the 'Janjatiya Vikas' campaign, Zee Media aims to strengthen the relationship and connect of the tribal community with the nation. We have adopted a 360-degree marketing approach to this unique initiative, thus encouraging citizens to actively participate in celebrating the resilience, progress and inclusive development of India's tribal communities," added Mr. Shridhar Mishra, CRO, IndiaDotcom Digital Private Limited .
Get ready to witness the legacy of indigenous tribes and their ancient traditions, rich culture, heritage and development.