AA News
Delhi's Celebrity Make-Up Artist and Entrepreneur, Urvashi Salaria Chawla wins Mrs. India UK pageant in London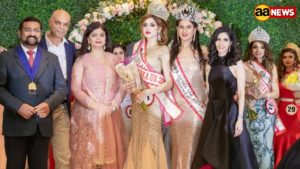 An Indian beauty entrepreneur was crowned Mrs. India UK at a glitzy event in London on Sunday (April 15), making her country proud. Urvashi Salaria Chawla from Delhi, India is the winner of "Colors TV UK presents Mrs. India UK 2018 organized by BrandWok".
    Academically Urvashi is a journalism graduate, worked in the aviation industry, a beauty blogger and now a successful entrepreneur in the makeup industry who owns Sakshi & Urvashi Beauty Studio in Delhi, India and is an esteemed Asian Bridal Makeup Artist in London. Urvashi got married back in 2013 and thereafter moved to London with her husband. After moving to London and having a well-settled job in the UK, she decided to follow her passion for make-up. She then opted for setting up a business in India which called for strenuous frequent travels. With her hard work and persistence, Urvashi settled a beauty business in Delhi with her childhood friend Sakshi, and this is where her success story took off. She became a very successful and leading entrepreneur in the beauty and makeup industry within a very short span of time. She is also an environmentalist by nature who believes in spreading awareness about climate change. She has been doing a lot of plantation drives in Delhi and also has been closely associated with volunteering in environmental activities like WWF Earth Hour campaign. Urvashi believes in expressing the notion of "beauty with a purpose".
Video
Video
    Urvashi started her razzle-dazzle journey by participating in Mrs. India UK 2018 in London where she was chosen as one of the 31 finalists. She's represented married Asian women residing in the UK on such a massive platform.
   Mrs. India UK is a unique pioneer pageant in the United Kingdom for British Indians and Asian married women residing in the United Kingdom. Mrs. India UK aims to encourage, empower women and provide opportunities to married women. It ensures learning, development, building confidence and strengthening the bond between a diversified culture of Indians abroad. Urvashi and all the other contestants of Mrs. India UK went through intensive training with various mentors. They've had sessions for fitness, catwalk, acting, photoshoot and much more during this journey. Urvashi won the title of "Mrs. Glamorous" during her talent round.
   The grand finale of Mrs. India UK was held at Hilton London Tower Bridge on 15th April where she competed with other 30 finalists. The event was full of glitz with artists like Juggy D performing on the night. Urvashi won all the hearts after her introduction and Q&A round and went on to win the Mrs. India UK 2018 title. She also won the sub-titles of "Best Catwalk" & "Brand Ambassador" along with other achievements. Urvashi says after winning the crown, "Though the crown is very beautiful, it comes with a lot of responsibilities and I will wear this crown not just on my head but on my soul. I'll fulfill all my responsibilities with perseverance." She believes that her pillars of strength have been her husband, Bhanu Chawla and her mother Meena Salaria along with rest of her family and in-laws who were always motivating her throughout her journey.
   Urvashi will now represent as Mrs. Eurasia Earth and compete for Mrs. Earth 2018 pageant in June this year which will be held in Las Vegas, USA.