AA News
New Delhi
Friday, March 04, 2022
Tata Power Delhi Distribution Limited celebrates the second edition of Lineman Diwas to appreciate the selfless service of linemen across the country
• First Indian Utility to dedicate a day to recognize the role and contribution of Linemen in providing uninterrupted power supply; theme of the day 'Seva, Suraksha, Swabhiman'
• 15,000+ linemen recognized as a part of the celebrations across all discoms in Delhi, Mumbai Orissa, most of J&K, UP, Jharkhand and Ajmer City
• Uninterrupted power supply was made available 24X7 due to selfless contribution of linemen throughout pandemic
Tata Power Delhi Distribution Limited a leading utility supplying electricity to a populace of 7 million in North Delhi, celebrated Lineman Diwas today. The aim of the event was to recognize the tireless efforts of the most important pillar of power distribution – the linemen and ground maintenance staff. The theme for the event was 'Seva, Suraksha, Swabhiman', which honours and appreciates the selfless service of linemen across the country. In line with company's vision to create equal on-field opportunities, this year it has also on-boarded 2 skilled female linestaff.
The event was graced by Mr. Goutam Roy – Member (Power System), Central Electricity Authority (the statutory body that advises the government on policy matters and formulates plans for the development of electricity systems) in the presence of Mr. Ganesh Srinivasan, CEO, Tata Power Delhi Distribution Limited and linemen along with other staff of the company at Tata Power-DDL's Learning Centre at Rohini, Delhi.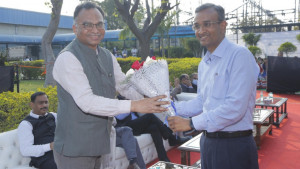 Linemen have been meticulously ensuring timely actions on emergency calls for repairing and maintenance of the power line, assurance among the general public for quick restoration of power supply, disconnected wires, electrical failures, new connections etc. During the pandemic, the frontline workers of power utilities ensured uninterrupted power supply to all consumers including essential services. Tata Power Delhi Distribution Limited was the first Indian Utility to give a national recognition to the hard work of linemen last year and this year it has been joined by other discoms from Delhi, Odisha, Mumbai, Ajmer and some parts of J&K, UP, Jharkhand and Ajmer City. Nearly 15,000 linemen have been recognized as a part of the celebrations.
Commenting on the initiative, Mr. Sanjay Banga, President- T&D, Tata Power said, The commitment of our employees has been phenomenal, it is no less than that of other than frontline workers. Our robust systems helped us to quickly adapt and ensure uninterrupted power supply during the pandemic, not just in Delhi but other locations also. It was a unique capability that was demonstrated not just by Tata Power but also other discoms across the country. We salute their spirit and commitment to brave all odds and contribute positively towards the country during difficult times.
While addressing the gathering at the event, Mr. Ganesh Srinivasan, CEO, Tata Power Delhi Distribution Limited said, "Lineman Diwas is our way of expressing gratitude for the frontline workers for their selfless commitment and service. We believe they are upholding Tata Power's name in letter and spirit. As an organization, we are proud torchbearers of this initiative and are overwhelmed with the support that we have received from other discoms this year. We feel such a day deserves to gain national importance. We thank all linemen & ground staff from the bottom of our hearts for their services and urge them to make no compromises with safety and follow all guidelines to avoid any untoward incident."
The pandemic has been a reminder of the importance of these frontline workers, including the linemen and ground maintenance staff in the power sector, who took all challenges in their stride and continued serving the nation by ensuring uninterrupted power supply. It is a day to honour these dedicated power victors who put their lives on the line to keep the supply on but also make heroic efforts when it comes to providing relief and assistance during a natural crisis.
This day also marks the beginning of Safety Week nationally. As a safety conscious organization Tata Power Delhi Distribution Limited strives to build a zero harm culture and urges everyone, especially its field staff to take due safety measures while performing their tasks.
About Tata Power Delhi Distribution Limited:
Tata Power Delhi Distribution Limited is a leading power distribution company, providing world class services using Information and Operational Technology Services to a populace of 7 million in North Delhi. The company has transformed the power distribution scenario in the capital city with a record reduction in AT&C losses and advanced technology adoption across verticals. It is a Public-Private Partnership, Joint Venture Company, between Tata Power, India's largest integrated power company, and the Government of National Capital Territory of Delhi. Since privatization, the Aggregate Technical & Commercial (AT&C) losses in Tata Power-DDL areas have shown a record decline. Today, AT&C losses stand at 7.3% which is an unprecedented reduction of over 86% from an opening loss level of 53% in July 2002. To learn more, please visit www.tatapower-ddl.com/
Picture Caption- Mr. Ganesh Srinivasan, CEO, Tata Power Delhi Distribution Limited and Mr. Goutam Roy – Member (Power System), Central Electricity Authority at the Lineman Diwas celebration.