AA News
New Delhi
Video
Video
   The talented Delhi girl Urvashi Salaria Chawla has made her place in the final round of 'Mrs. India UK 2018' contest organized by Colors TV and 'BandWalk' in London. Its Grand Finale will be held at the Hilton Tower Bridge Hotel in London on April 15. Explain that 'Misses India UK' is a unique beauty contest of the United Kingdom for British Indians and Asian married women living in the United Kingdom.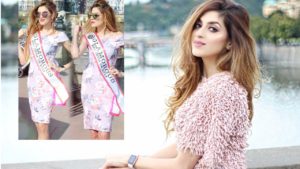 Urvashi Salaria Chawla is a successful entrepreneur of the make-up industry and owns a beauty studio in India and is a respected artist of Asian bridal make-up. A graduate in journalism, working in the aviation industry, and a beauty blogger Urvashi Salaria Chawla currently represents a large platform for married Asian women living in the UK. 
   Urvashi Salaria Chawla has been living in London for four  years after getting married. Not only that, Urvashi Salaria Chawla is also an environmentalist who believes in spreading awareness about climate change. Carrying a positive attitude. She has operated several plantation campaigns and is also associated with environmental activities like the WWF Earth Hour campaign as a volunteer. Urvashi believes in the concept of 'beauty for one purpose'
   Following the main fact and purpose of the 'Mrs. India UK' competition is to empower the Asian married women and provide them with good opportunities to move forward in any field according to their skills . This competition inspires the learning of relations between the diverse cultures of Indians in foreign countries abroad, with the help of their mentors, to develop self-development, confidence and financial stability.
   Urvashi and all other contestants of the 'Mrs India UK' competition are currently undergoing good  training with various advisors. During this training, there are many sessions like fitness, catwalk, acting, photoshoot for these participants. Well for the same, Urvashi stated, 'Our mentors are doing very good by making collabration with everyone while helping us during this training trip, as well as telling tips on focusing ourselves.
   Not only this, they are also providing advice to us through online sessions." It is to be noted that Urvashi, who believes in the 'beauty of internal soul & heart' has recently grabbed 'Mrs. India UK' title of 'Miss India India Glamour'.