The mega launch of Patanjali e-commerce platform & a joint announcement of partnerships with leading e-retailers & aggregators!
   Realising its responsibility towards countrymen, Patanjali has developed a detailed plan to make its products available from 'Haridwar to every doorstep online, through superb, convenient and efficient mechanism along with effective supply chain. Now, Patanjali, with its motto of "First to Best" has taken further steps to enter into agreements with leading e-Retailers and aggregates to authorize online sales of its products. These e-Retailers and aggregators partners include Paytm Mall, big basket, Flipkart, Grofers, Amazon, netmeds, 1mg, and Shopclues, among others.
   Its e-commerce platformwww.patanjaliayurved.net has yielded good dividend and response at trial stage itself. This was clearly reflected in online sales which crossed Rs 10 crore mark during December itself, highest online sales by any FMCG brand in a month.
   "Online mechanism aims to provide convenient and efficient option along with the extension of the traditional retail market"¸ says HH Swami Ramdev Ji Maharaj. He further added that utmost care has been taken to ensure swadeshi movement and Patanjali products reach to every home without compromising policies and business ethics.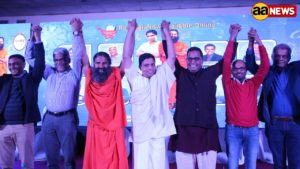 PP Acharya Balkrishna Ji Maharaj, MD & CEO of Patanjali Ayurved, explains the objectives of the new mechanism. He said, "With the help of new mechanism, Patanjali will reach more people including youths who prefer and use online platform for shopping more these days. Reach those who do not have access to the point of purchase and they are looking for the alternate mechanism to shop and can get Patanjali products at home, and provide most efficient and convenient digital shopping experience."
   Patanjali has created an ecosystem which helps to settle at least 1 million orders every day. The company estimates that share of online sales will contribute 15 percent in total turnover in years to come.