AA News
New Delhi
LuvKush Ramleela Committee the oldest committees in Delhi have been organizing Ramleela at Lal Quila Maidan from last 40 years. The committee has achieved the recognition as the favorite organization in Delhi. Well, this year again the entire team of World's biggest Ramleela is all set to hit the entire religious event in a grand manner.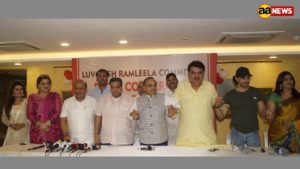 In the recent press conference, held at Civil Services Officers Institute, in Kasturba Gandhi Marg, witnessed the presence of some of the recognized Bollywood actors, like Raza Murad who will portray Subahu. Shilpa Raizada will be Sita, Angad Hasija will be Ram, Payal Goga Kapoor & Prerna Trivedi will also be seen in promonent roles. Apart from them the Senoir BJP Leader Vijendra Gupta is playing the character of Rishi Atri, father of Shiva.
According to Ashok Agarwal (Chairman of Ramleela Committee), this year Bollywood's legendary Action Director will direct the action & war scenes of the entire program, and costumes and dress materials for all the actors, we be served from Mumbai. Over fifty Bollywood artists will play different roles on the Leela stage, while the dancers from more than ten prominent dance groups will also perform for the same, from the artificial river to the Leela stage to Ashok Vatika and the sets of Lanka, this time Designers from Mumabi have taken charge for the entire Ramleela session.
So, finally the preparation of this year's Ramleela is on hype, as the celebs are already witnessed excited for the same. The 40 year old LuvKush Ramleela will be showcased from 10th October till 21st October, 2018.