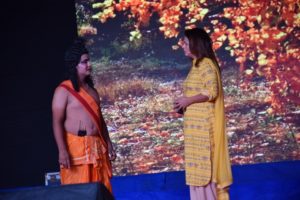 LuvKush committee chairman Ashok Aggarwal leaving no bars to make 'Ramleela' happening this year!
AA News
Delhi
Finally, the beginning of the world's biggest Ramleela is started. As the entire cast of this year's LuvKush Ramleela participated together in full dress rehearsal held in prestigious Lal Quila Maidan, New Delhi. Several people along with media witnessed the beauty and charm of Ramleela. Luxurious lights, charming dresses along with great sound and graphics were increasing the craze and glamour of LuvKush Ramleela.
On the full dress rehearsal program, the chairman if LuvKush Ramleela committee Ashok Aggarwal, while interacting with media revealed several pieces of information about the 10 days function. As this time along with artists their performances, costumes Ramleela will be revealed in 14 different languages along with more digital technology. Along with that he again informed us about the cast this year, not only celebs but politicians will also participate in Ramleela.
As per him, nowadays youngsters are more into social media and digitality, after studying these trends in depth, we decided to add more digital technology. According to him, last year more than nine hundred thousand viewers watched Live Ramleela on Youtube, the highest number of viewers was from European countries and the rating kept on increasing."
Talking about the characters this year, he told media, Avtar Gill will portray Vibhishan, Ritu Shiv Puri will be Sita's mother Sunaina. Shankar Sahni will be Guru Vashisht, Union Minister of State Vijay Sampla will be playing the character of Parvati's father Himavan. This year LuvKush Ramleela will be highlighted for the National and International audience through Television. Well, the 40-year-old LuvKush Ramleela will be showcased from 10th October till 21st October 2018.