DHL drives India's journey in logistics innovation
400 logistics professionals inspired by a wealth of innovation insights at DHL India Innovation Day 2018
DHL's Asia Pacific Innovation Awards 2018 recognizes best-in-class innovations designed by employee teams
Over 20 interactive exhibits on Augmented Reality, Big Data Analytics, IoT, Robotics, Artificial Intelligence, Cold Chain and Last Mile Innovations
AA News
Press release by Media OutReach
MUMBAI, INDIA – Media OutReach – 6 September 2018 – IoT-powered smart parcel lockers, "smart trucks" with live temperature tracking capabilities, and autonomous collaborative robots were just some of over 20 disruptive technologies exhibited by start-ups and innovative DHL employee teams at the highly-anticipated logistics innovation event, DHL India Innovation Day, held in Mumbai this year.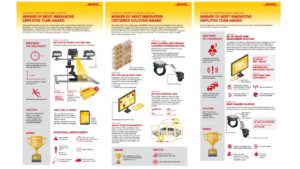 Themed Driving the Digital Future, more than 400 customers, senior supply chain professionals, innovators and start-ups were equipped with a wealth of social and technology trend insights, plus cutting-edge innovation tools to accelerate their digital transformation journeys.
"I am truly impressed by DHL's thought-leadership in logistics innovation — changing the way business is done globally. We have learnt today that when innovation and sustainability mix, many doors open. Lives become more meaningful, businesses more sustainable and services more affordable. From a transporter of goods to one of gratitude, this event provided tremendous hope for this country and even humanity," said keynote speaker Dr Anil Kumar Gupta, a globally renowned scholar in the area of grassroots innovation and Padma Shri awardee.
Top start-ups such as Locus, FarEye and DHL-grown start-up DHL SmarTrucking not only shared their journeys of disrupting traditional logistics paradigms, but also showcased their technologies in the Experience the Future exhibition among 20 others in the fields of Big Data Analytics, IoT, Automation, Artificial Intelligence and more.
Also exhibiting their innovations were three winners of the DHL Asia Pacific Innovation Awards 2018. The Awards celebrate outstanding employee-designed solutions that have yielded significant results after deployment. The 2017 awards celebrated a winning Indian team, from DHL eCommerce subsidiary Blue Dart, who developed a digital payment solution which enables couriers in India to collect cash-on-delivery payments through mobile Point of Sale devices, instead of physical cash.
This year's winner in the Most Innovative Customer Solution category was DHL Supply Chain China, Yan Jiao BMW Warehouse Operations team for BMW Brilliance, the joint venture that produces and distributes passenger cars for automobile giant BMW in mainland China. The team, with BMW, developed a series of five hardware and software tools such as the "Bin Type Allocation Tool". This software alone yielded over 500% improvement in productivity, as it helps maximize storage space in the warehouse by simulating and calculating the best stacking patterns. The DHL team was also recognized by BMW, who bestowed the team with "The Global Golden Award", as most innovative logistics provider at the BMW Annual Logistics Conference.
Another DHL Supply Chain solution was lauded as joint-winner of the Most Innovative Employee Team award. The Smart Yard Management system utilizes cutting-edge Narrow Band Internet of Things (NB-IoT) technology to fully automate the scheduling, dispatching and recording of vehicle traffic in the yard. The system now sees an almost 30% improvement in the unloading process and on-time deliveries.
"Innovation is in the details. Technology is key, and when applied with in-depth expertise, we will see the ability to make significant gains in our customer's warehouse operations. We constantly strive to be the most customer-centric logistics service provider, and turnkey solutions that yield better results are what drive us to innovate," said Yin Zou, CEO, DHL Supply Chain Greater China.
The other joint-winner of the Most Innovative Employee Team award was the DHL Express South Asia Hub team in Singapore. The facility is outfitted with the industry's first fully automated express parcel sorting and processing system in South Asia, and can handle 24,000 shipments and documents an hour.
Using affordable off-the-shelf technology, the team invented a Sorter Search System (SSS) that proactively searches for shipments that may have slipped under the hub's 305 carriers, in just 10 minutes. The bespoke imaging solution only takes two to five minutes to set-up, fully automates the checking process, and captures live footage on the crew's mobile devices.
Samuel Lee, General Manager, South Asia Hub, DHL Express Singapore said: "The Sorter Search System is just one example of the culture we have in DHL to constantly seek improvements in all we do. It is something we are particularly proud of because it encapsulates our key attributes of speed, passion, can-do attitude and getting it right the first time."
DHL — The logistics company for the world
DHL is the leading global brand in the logistics industry. Our DHL family of divisions offer an unrivalled portfolio of logistics services ranging from national and international parcel delivery, e-commerce shipping and fulfillment solutions, international express, road, air and ocean transport to industrial supply chain management. With about 360,000 employees in more than 220 countries and territories worldwide, DHL connects people and businesses securely and reliably, enabling global trade flows. With specialized solutions for growth markets and industries including technology, life sciences and healthcare, energy, automotive and retail, a proven commitment to corporate responsibility and an unrivalled presence in developing markets, DHL is decisively positioned as "The logistics company for the world".
DHL is part of Deutsche Post DHL Group. The Group generated revenues of more than 60 billion euros in 2017.