AA News
New Delhi
(Anil Attri News Network)
Television sensation Deepak Chaurasia launches his first book "Kuda Dhan" with a motto from "waste to wealth"
How efficient and innovative techniques of waste management can create wealth.
Noted Journalist and Editor- in- chief of India News Mr. Deepak Chaurasia's first book 'Kuda Dhan' was launched in the capital at the Constitution Club on Tuesday. Honorable Speaker of Lok Sabha Sumitra Mahajan Ji graced the occasion as the Chief Guest while Cabinet Minister for Road Transport and Highways, Shipping and Water Resources, River development and Ganga rejuvenation Mr. Nitin Gadkari was the special guest.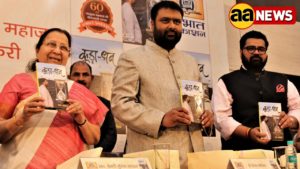 'Kuda Dhan' is the first book of its kind with in-depth research on effective waste management techniques and how a revolution in this area is both the need of the hour and can work as an all-important instrument for job creation.
Honorable Speaker Sumitra Mahajanji, while addressing the gathering said, "Deepak Chaurasia has written an inspirational book, which is an extension of Prime Minister Narendra Modi's Swacch Bharat mission." She said "waste management is part of our culture which we are slowly forgetting. Our journalists today have a tendency to be negative but Deepak in his typical style has come up with a positive way of looking at things. He has written this book which I believe is a guide for the future. I hope others will follow his example."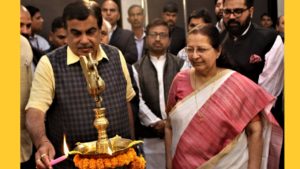 Cabinet Minister Mr. Nitin Gadkari who is passionate about such issues remarked…waste if managed properly is worth a 10 lakh crore economy. With innovation, entrepreneurship, research, and technology. He Appreciated Deepak Chaurasia for writing this book and said nothing is waste. A proper management can change the entire economy of the country.
Published by Prabhat Prakashan, Veteran Journalist for 25 years and first-time author of 'Kuda Dhan' Mr. Deepak Chaurasia added, "the issue of cleanliness and environment has had the most provocative impact on my thought process. Heaps and heaps of garbage and waste and its impact on human health have become a matter of great concern for me. During Diwali last year, when the air quality of Delhi was severely affected I decided to dig out a solution to this monster- called waste. I started to study about all types of waste and the available technology and their applications around the world. My approach was positive. I didn't want to question or blame anyone for the situation, instead, I was focusing on finding solutions."
While researching for the book Mr. Chaurasia realized waste management was a huge problem not only for India, the whole world is facing the same challenge. This is an issue of global concern. Every country is facing the same problem regarding disposal of domestic waste. In his book, Deepak Chaurasia has tried to string together all such success stories. This book can be an eye-opener for all quarters of society, from homemakers to farmers, from hair salon owners to local bodies, from environmentalists to academicians. This book "Kuda Dhan" can open a new era of learning and earn huge sum by means of waste management.
Several prominent persons were present to grace the book launch event and received a warm welcome by Shri Prabhat Kumar and Dr. Piyush Kumar of Prabhat Prakashan. Mr. Karthikeya Sharma Promoter and MD of ITV network were also present at the event.